Discussion Starter
·
#1
·
I am starting a Fetching 12 Step Program so that people who have had canine retrieving games take over their lives can regain the control they've lost. On the positive side of things, because of our extensive experience with "Fetch", if anyone drops out, we will be able to bring them back.
Hi, I'm Eleanor, and I throw Tennis Balls. It's been one hour, 7 minutes, and 32 seconds since I've last played fetch.
(Hi, Eleanor)
1. I have admitted that I am powerless over Tennis Balls and that my dogs have become unmanageable.
2. I have come to admit that a power greater than Tennis Balls can restore my sanity.
3. I have made a decision to turn my will and my Tennis Balls over to God, as I understand him.
4. I have made a searching and fearless inventory of my Tennis Balls.
5. I have admitted to God and to myself and to retrieving enthusiasts
the exact nature of my addiction to my Tennis Balls.
6. I am entirely ready to have all of these defects of character removed. Well, most of them.
7. I have humbly asked Him to remove my Tennis Balls.
8. I have made a list of all persons I have harmed while throwing Tennis Balls, and am willing to apply bandages and ice packs to them all.
9. I have made direct amends to such people wherever possible, except when to do so would injure them or others, such as if I was required to throw a Frisbee.
10. I have taken personal inventory of my Tennis Balls and though some are missing, learned to accept this as the will of a Higher Power and resisted taking extensive steps to recover them. Even the one under the couch.
11. I seek through prayer and meditation to improve my conscious loss of contact with Tennis Balls, praying only for knowledge of ducks, bumpers, and "sit/stay" and the power to carry that out.
12. Having had a spiritual awakening as the result of these steps, I try to carry this message to all Fetchaholics and to practice these principles in all my affairs.
Do you think coffee should be free at the meetings?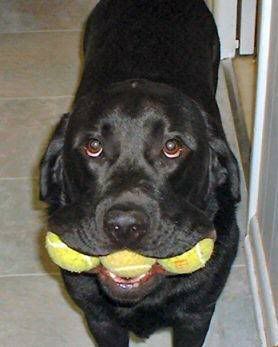 (Special thanks to Robin Hand and her dog Brody for sharing the photo.)
Copyright Eleanor Herrick 2005