Discussion Starter
·
#1
·
Katy didn't have a pedigree that was impressive. She didn't have hunt or field titles to impress anyone. What she did have was a big heart and an incredible sensitivity. Katy came to us at 18 months of age, having lived her whole life at the end of a 50 foot logger chain. She was wild and crazy, and I thought Gregg had lost his mind when he said he wanted that dog. He had read something in her eyes that, at the time, only he understood. It took 3 people a half hour to load her into the back of the SUV. At the end of 2 months, Katy was Gregg's obedience champion, going to work with him, demonstrating obedience that was astounding. Shortly after, she earned her CD title and became the lead Therapy Dog at Desert Samaritan Hospital. She was the only dog allowed into Neonatal Intensive Care where after only two visits, she had gotten a baby to respond that hadn't responded to other stimuli. The baby went home shortly after. Her visits in the children's ward were fun but her visits with the older people were genuinely inspiring. Time and again she would bring tears of appreciation to the patient's eyes. Later we were to learn that a man had returned to the hospital bringing with him a picture that was taken of him and Katy. Another golden retriever and its owner visited him and when he told the story about this wonderful dog that made his earlier recovery go well, he completely broke down with emotion when he discovered that Katy had retired and he was being visited by her son. Katy also visited an elementary school assembly to show the children what a therapy dog does and must be able to do. The hospital did an article on Katy in their publication. The picture is below with a little patient and the two women who ran their program.
With little or no formal hunt training, Katy quickly became Gregg's hunting partner and companion. She knew instinctively what he wanted. Anyone that went hunting with Gregg always asked for Katy to come along as she got all the birds. She dearly loved her birds.
Last summer, Katy started her formal hunt training in Snowflake, AZ. After two months, she passed her first junior hunt test at 8 ½ years of age. Yesterday, at Copperstate's hunt test, she got her JH title. We couldn't be there to see her run because we were working, but Gregg was to run her this morning. She came home last night so proud of her ribbon and we all were celebrating. Sometime during the night, Katy became ill. Instead of heading off to the hunt test early this morning, Katy was rushed to emergency. During surgery, it was discovered that her stomach had turned and the lack of blood flow caused extensive irrepairable damage and we lost her.
Godspeed dear Katy Sunglow JH CD. You are forever in our hearts and forever a part of our lives that we will always cherish. You are the one that brought it all together.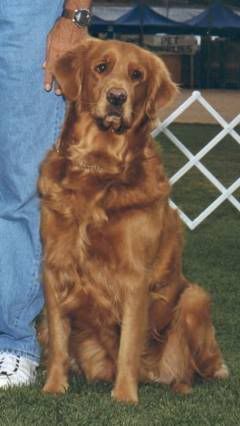 Arleen